You can create guided tours in your Space to make the 3D experience in your Space even easier for users.
Create guided tour
To create your guided tour, you first need navigation spots in your space. It's best to give the navigation spots unique names, this will make it easier for you to create the tour. Click here to learn how to create navigation points and change the name.
After you have created all the necessary navigation spots, you can open the guided tours management by clicking the button in the left menu.

Click Add Tour.
Now you have the possibility to select the tour you want to edit (area 1), add navigation spots to the tour and edit them in the order (area 2), adjust the settings and the name of the tour (area 3).
Add/edit navigation spots to a tour
If you click on "Add navigation point to tour" in the middle area, a list of available navigation spots will open from which you can select one.
By clicking on a navigation spot in this list, you add it to your tour. You will then see a list with the added navigation spots of your tour below. (You can also add navigation spots to a tour more than once).
Using the icons at the individual navigation spots, you can change the order or remove individual spots from the tour.
Customize settings of the guided tour
You can make adjustments to the selected guided tour in the area on the right.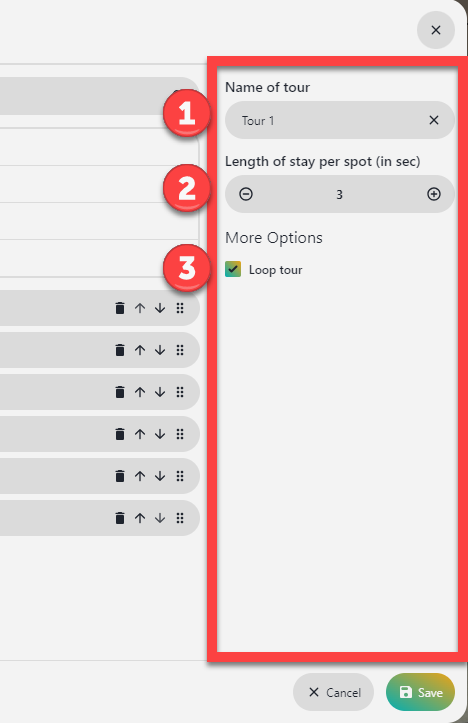 Here you can
1. change the name of the tour,
2. adjust the duration of the stay at a point (max. 600s, i.e. 10min),
3. set whether the tour should be repeated automatically.
This is what the guided tour looks like in the Space Viewer
In the Space Viewer, a small console appears at the bottom left, which can be used to stop or skip the tour.

Using the small arrow, you can also display a more detailed view with a listing of the individual navigation spots.