3D models can be created with existing 3D data. In this article you will learn how to upload your 3D object.
Requirements
To upload your 3D data to rooom, make sure you have a 3D file of your object with less than 100,000 polygons (.glb, .gltf, .obj or .fbx format)
Specifics for .obj files
If you are uploading an .obj file, you will also need:
.mtl file (Material Template Library)
Textures (.png files) for the following:

Diffuse or albedo
Roughness
Normal
Metalness (optional)
Emission (optional)
Specifics for .fbx files
If you are uploading an .fbx file, please note the following:
Check if your fbx file looks like the preview of your source. On Windows, just double-click and the internal Windows 3D viewer will show you the file. You can also use the fbx-Reviewer by Autodesk.
If your fbx file differs from the online preview (e.g. looks gray), the textures are probably missing. Check if there are texture files in a child or parent folder. If this is the case, provide a ZIP file that contains the textures listed above.
If no textures are provided for an fbx file, it will be processed without textures. Example: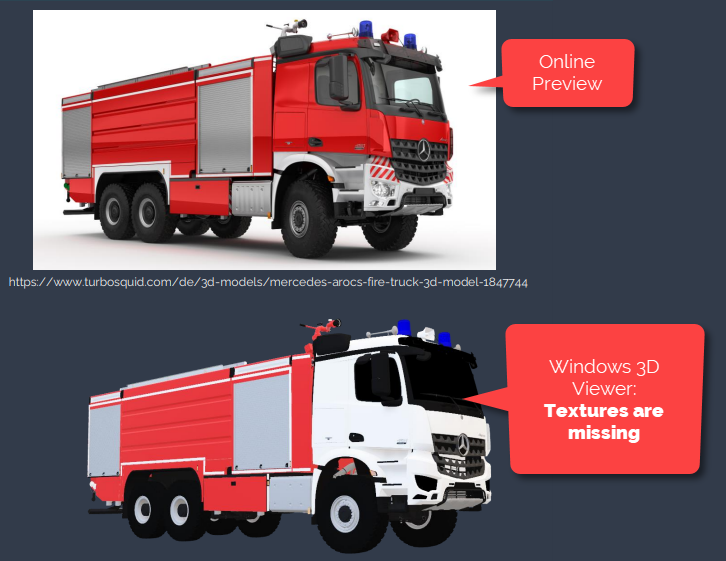 Please note our detailed requirements for 3D models.
If you are having problems uploading your 3D model, it probably does not meet our requirements. In this case you can order an optimization for our system -> Click here for more information.
How to upload
1. Go to the product overview by selecting products above and click on Upload Product.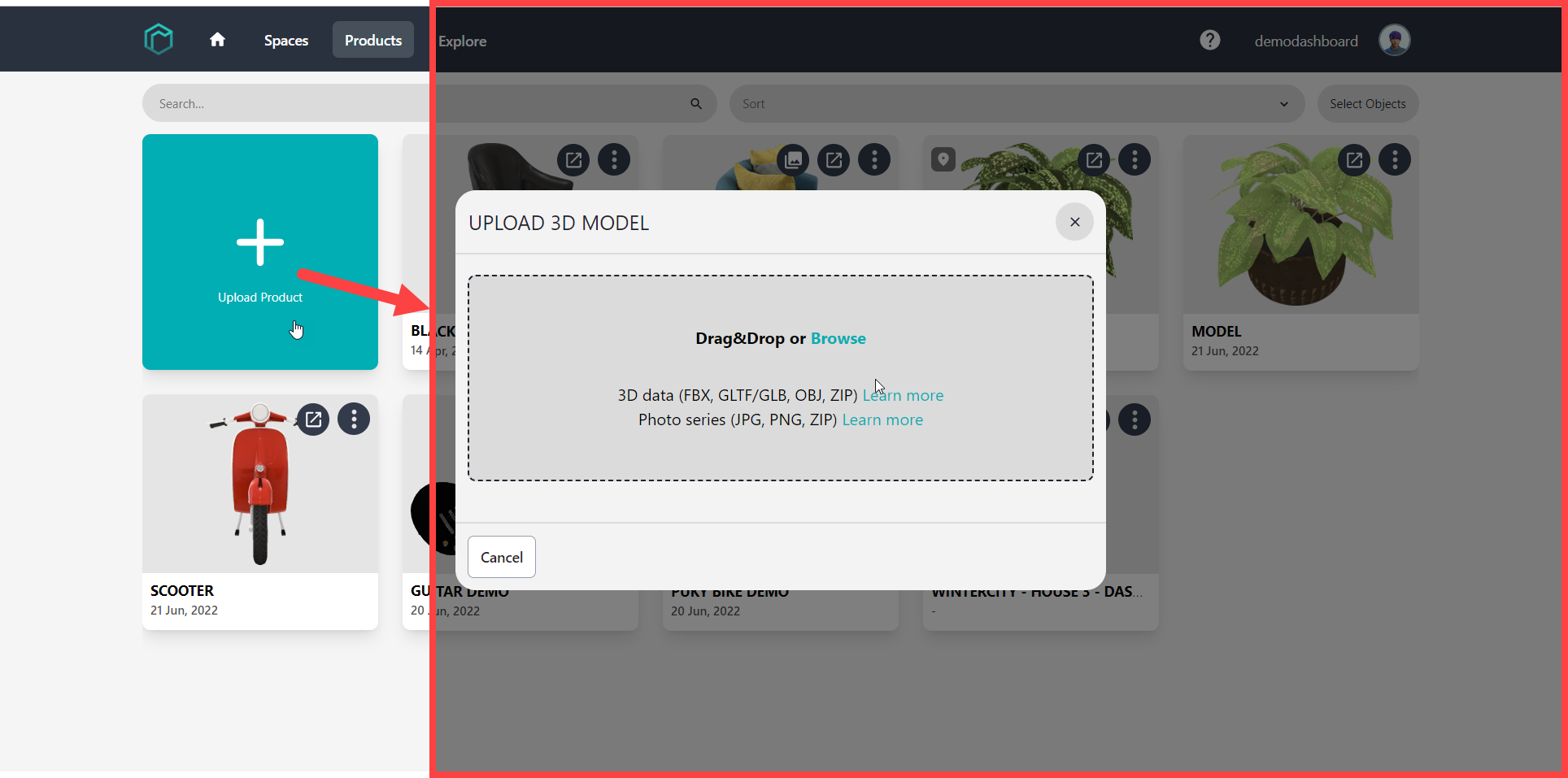 2. Now select your
3D data (3D object and associated materials)
or drag & drop them into the upload modal. You can either select all your Data here in or to make life easier pack it in a ZIP archive beforehand (see tips).
3. In the pipeline you can see the progress of your upload and optimization for our system.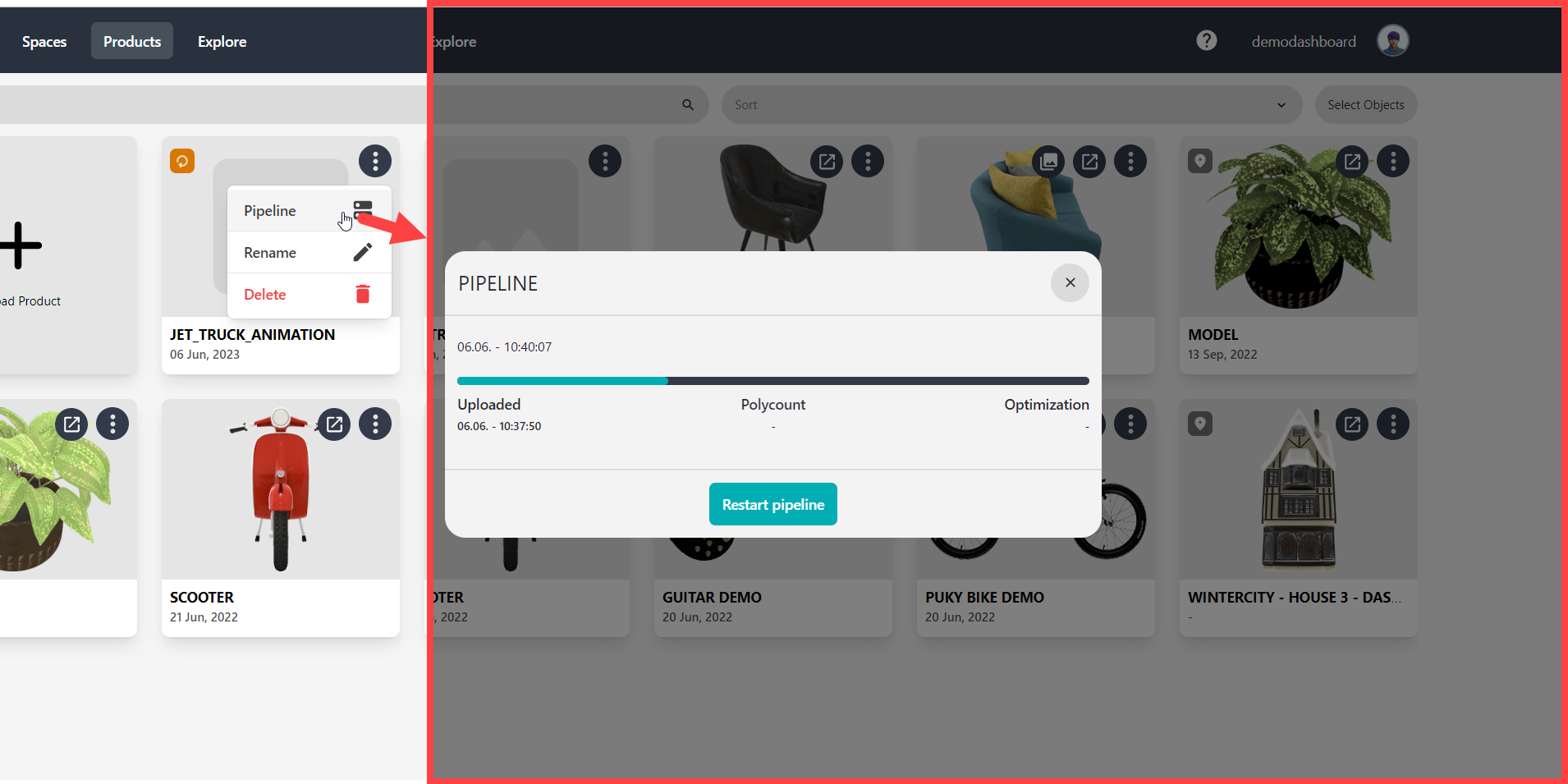 Important tips for uploading
To upload your 3D data, i.e. your 3D object and the corresponding materials together, simply package them together in a ZIP archive.

Windows: Select your files, right-click on one of the selected files, then click on "Send to" and then on "ZIP compressed folder".

Mac: Select your files, hold down the CTRL key and right-click (two fingers on the touchpad) on one of the highlighted files, then click "Compress".


If you upload a .glb file the checkbox "Optimize 3D data" will appear.

If you want to display this file only in the product viewer, you can uncheck this checkbox. This way your 3D model will be available faster. However, your 3D model will not be optimized for our Spaces system and therefore will not be usable in your Spaces. So if you want to use a .glb file in a Space, check the box "Optimize 3D files".
PS: Materials (Textures) can also be exchanged afterwards via the Product Editor.