Flipbooks are virtual brochures. In this article you will learn how to create a flipbook from a PDF document.
Content:
Uploading PDF documents
1. Open the catalog on the right menu bar.
2. You can easily search for magazine in the search field.
3. Upload a PDF document via Choose Flipbook. ATTENTION: The file size is limited to 20 MB!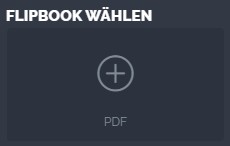 4. Use the plus button to assign the PDF to the object.
5. Now you can place it wherever you like, for example on a counter.
6. (optional:) A cover image for the magazine is automatically generated from the first page of the PDF document. If this is not suitable for you, you can upload your own preview image via Select image.
Tip: A standing magazine is even better visible.
Viewing PDF documents
You can scroll to the next page in virtual brochures by clicking the upper or lower right corner.
In addition, a navigation bar is available. There you can also download the PDF document.