We deliver virtual reality experiences with and without download. In this article you will learn how to explore spaces in VR.
Virtual reality (VR) makes it possible to immerse yourself completely in virtual worlds. Special glasses or headsets are used to realize this kind of experience.
Our applications support both WebXR (directly in the browser) and the VR system from Oculus/Meta (app download). For high-quality VR experiences, we recommend using the Oculus app.
VR for Oculus/Meta
If you are using an Oculus/Meta Quest headset, you can experience VR spaces in even better quality. We offer a free Oculus/Meta app for this purpose.
1. Download the rooom app from the Oculus/Meta Quest Store (App Lab).
2. Open the rooom app (via the App Library).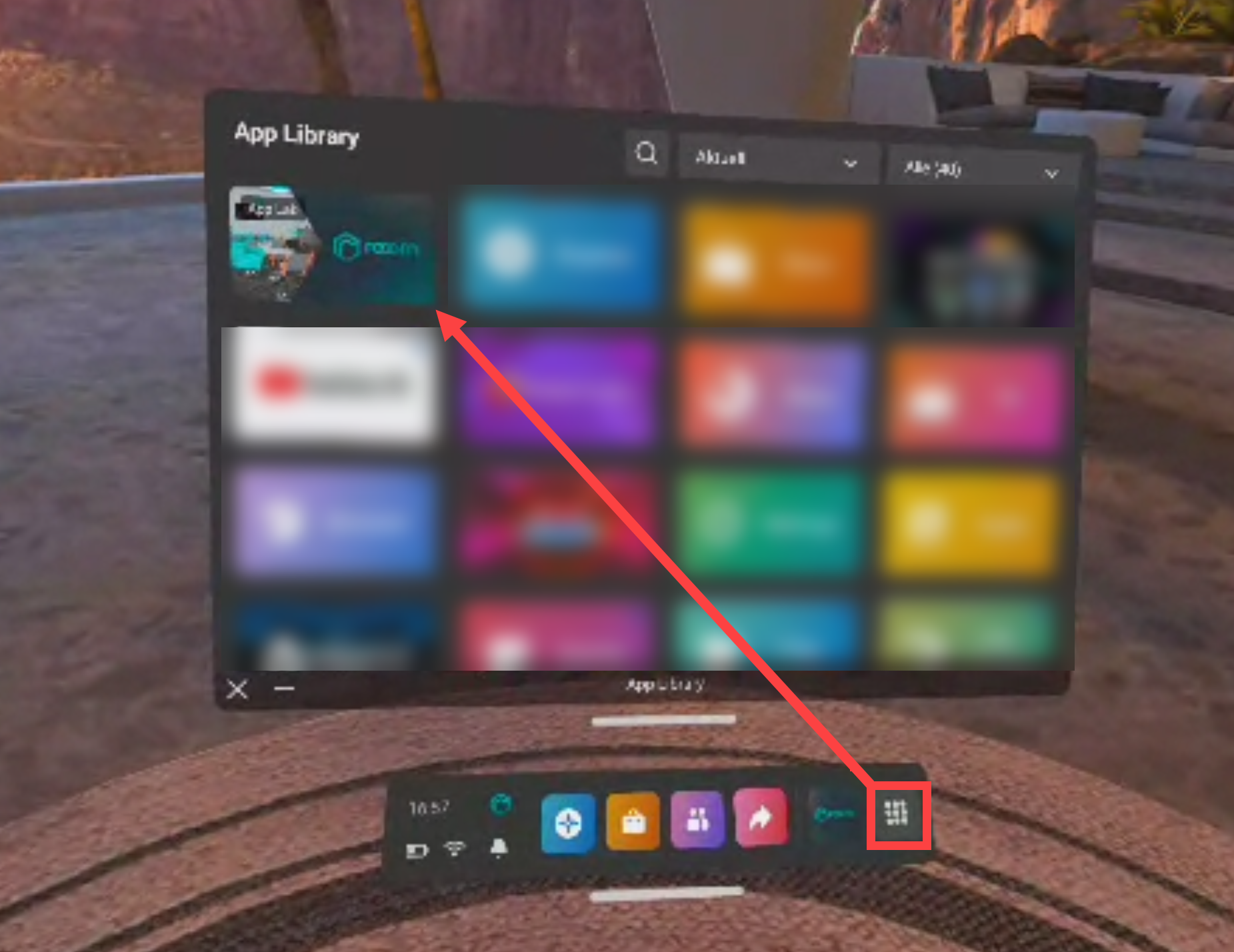 3. Now you will find yourself in a virtual lobby and can see the main menu with three columns: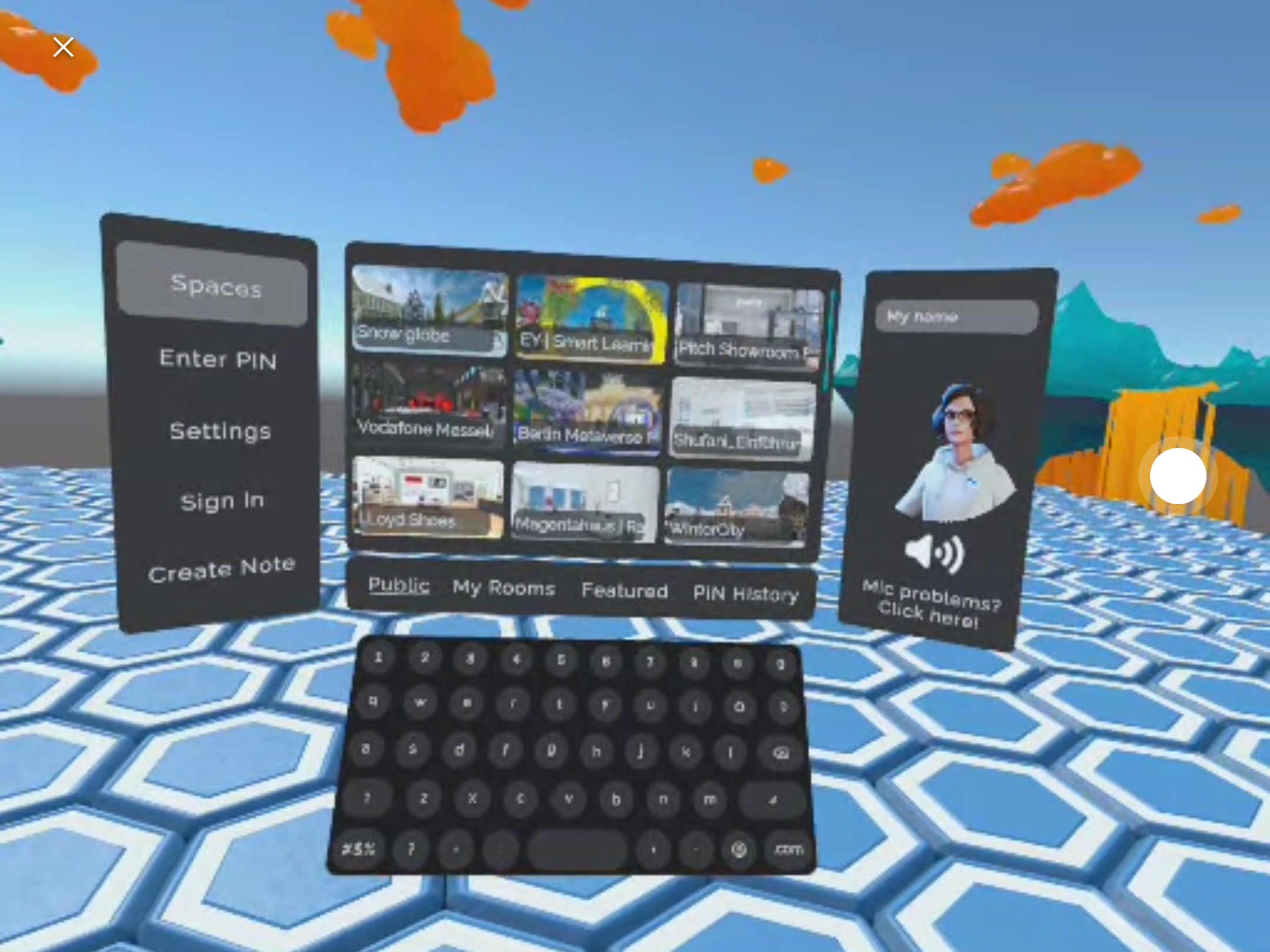 Left:

Spaces: Browse public spaces
Enter PIN: Search private space via PIN
Settings: Sound and navigation options
Sign In: Log in with rooom
Create Note: Make notes

Center:

Public: Collection of public spaces
My Rooms: Spaces owned by your account
Featured: Recommended spaces
PIN History: Quick access for already visited private spaces

Right:

Configure avatar

Here you can edit the name and appearance of your avatar.
4. Choose a space that you would like to visit:
Public spaces: You can find public spaces in the categories Public or Featured.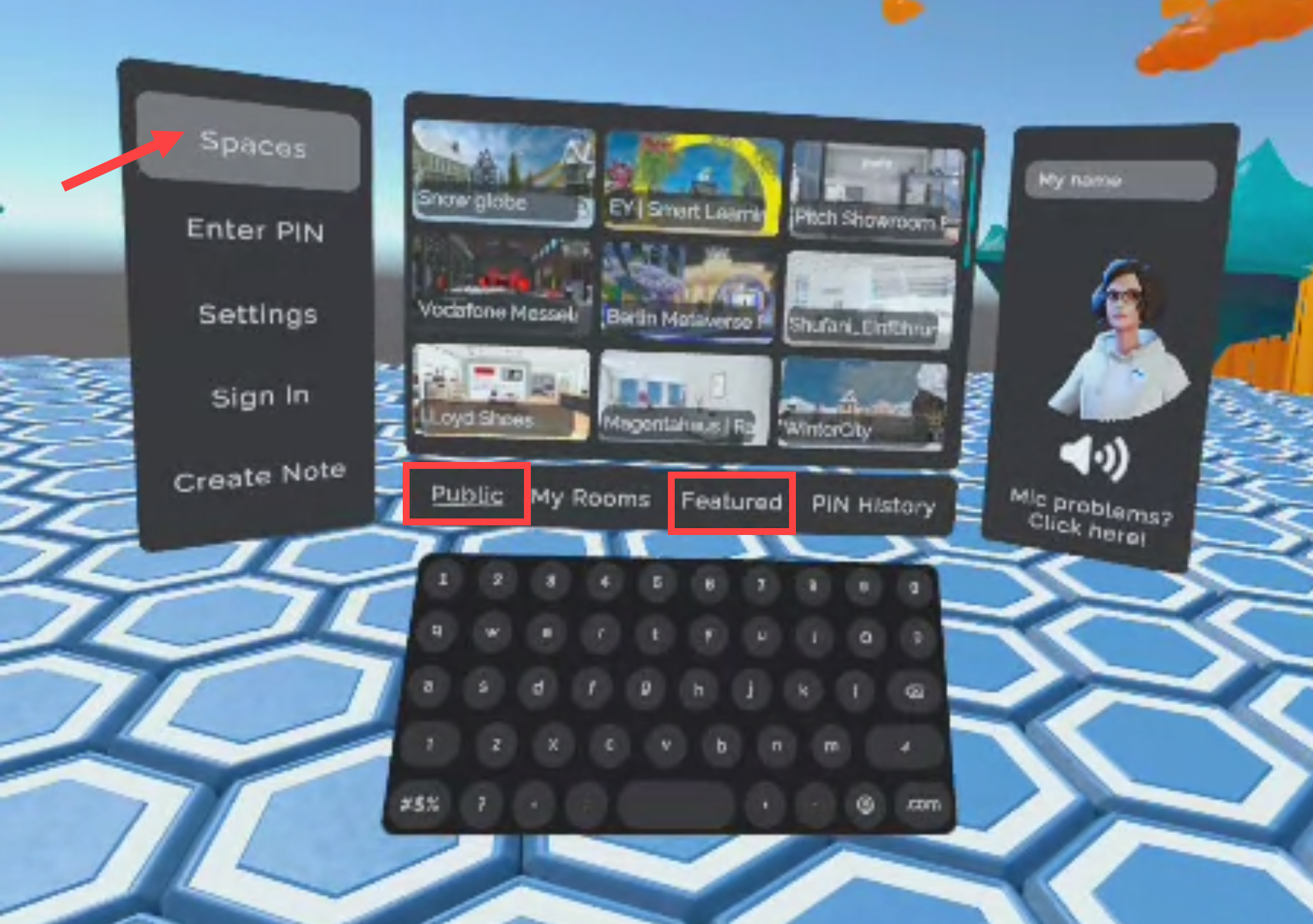 Private spaces: To access a private space, you have to enter a six-digit PIN. You will receive this PIN from the owner of the space.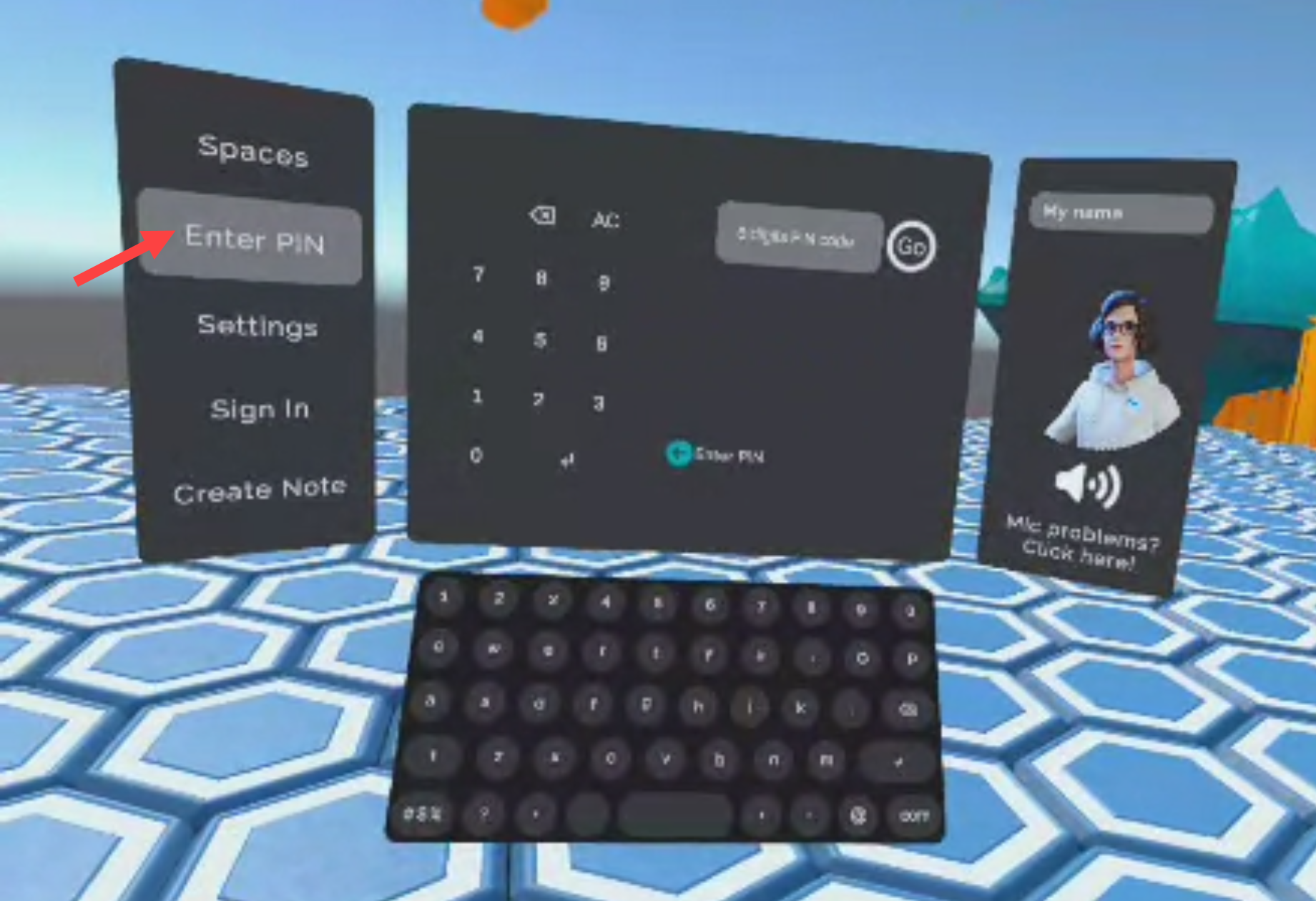 Account: When you log in with your rooom.com account data (email and password), you can enter the spaces in your own account and also edit them in VR. After you have signed in, you can find them under My Rooms.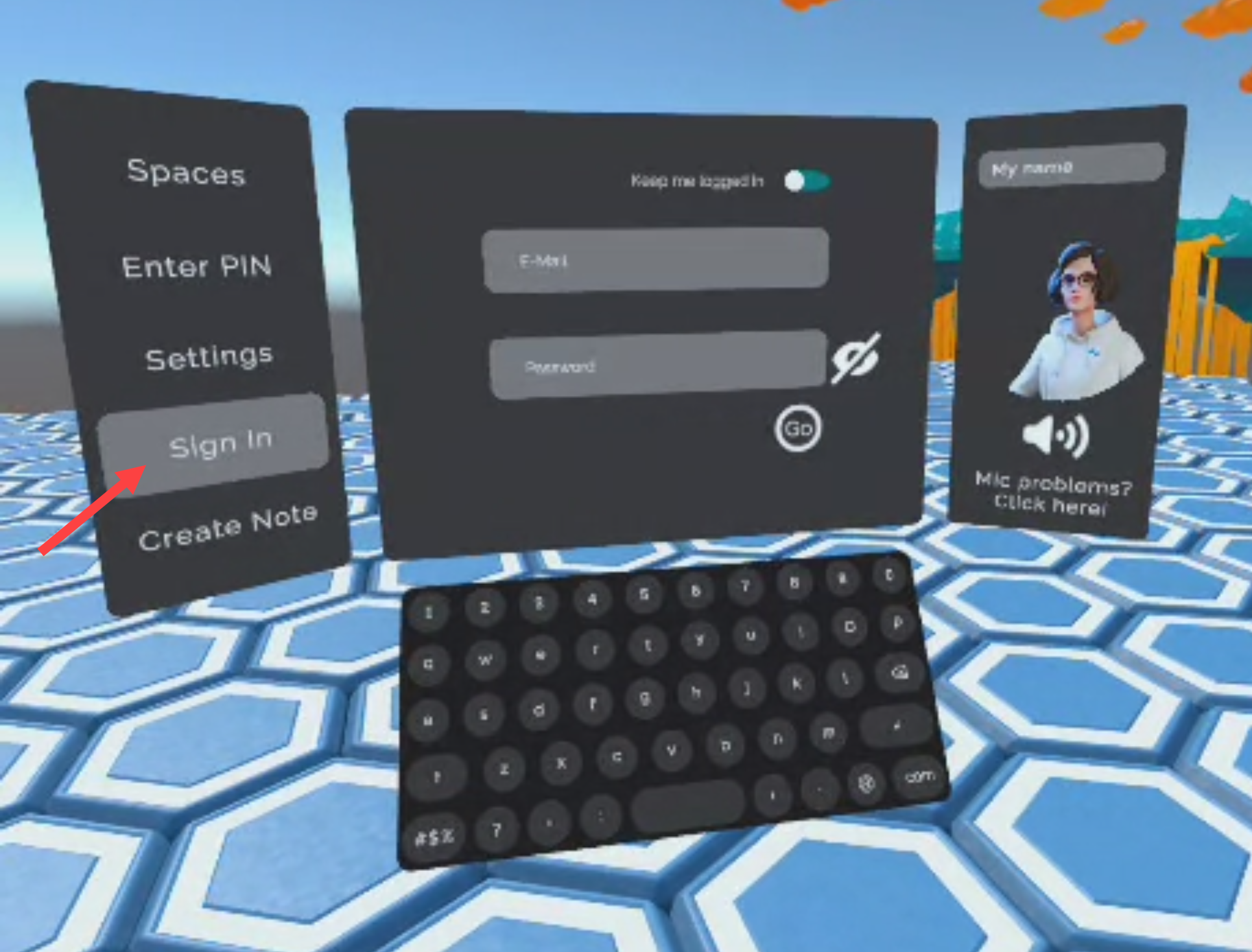 5. Take a look around the space, explore the content, and interact with objects or other avatars. You also have a voice chat available through your headset's microphone. Read more about the navigation below.
6. If you want to leave the space you can either return to the main menu (B key) or close the application (Oculus key).
Web browser based VR
With WebXR you can experience VR spaces directly in the browser. All common VR systems are supported.
1. Open the 3D Space Viewer of the space you want to visit.
2. Connect a VR headset to your PC. If your browser supports WebXR, it will usually identify your VR headset automatically.
3. Click the VR button at the bottom right, and then click Next.
PS: The 3D Product Viewer also supports VR headsets via the browser. The procedure is the same here. For example, you can grab products, rotate them and view them in detail.
Navigation with VR headsets
You can use the controls on your headset to navigate in VR mode. This is applicable for both WebVR and Oculus/Meta.
Look around: Turn your head to look around. (Alternative: right joystick)
Move: With the right trigger (on the front of the controller) you can select a location and get teleported there. If available, you can also use the navigation points on the ground. (Alternative: left joystick)
Objects: Interactive objects are highlighted. With the right trigger you can select objects and open e.g. 3D Product Viewer, videos or whiteboards.
The B key (right controller) can be used to open and close the main menu.
You can jump with the A key.
You can exit the application via the Oculus key (right controller).
You can customize the navigation in the main menu of the Oculus app under Settings and, for example, change the mode between teleporting and continous walking.