My Area is where you'll find your personal settings, calendar, business cards, and more. In this article you will learn how to use My Area.
You can access My Area in the left sidebar at the bottom, as well as by clicking on your profile picture in the upper right corner.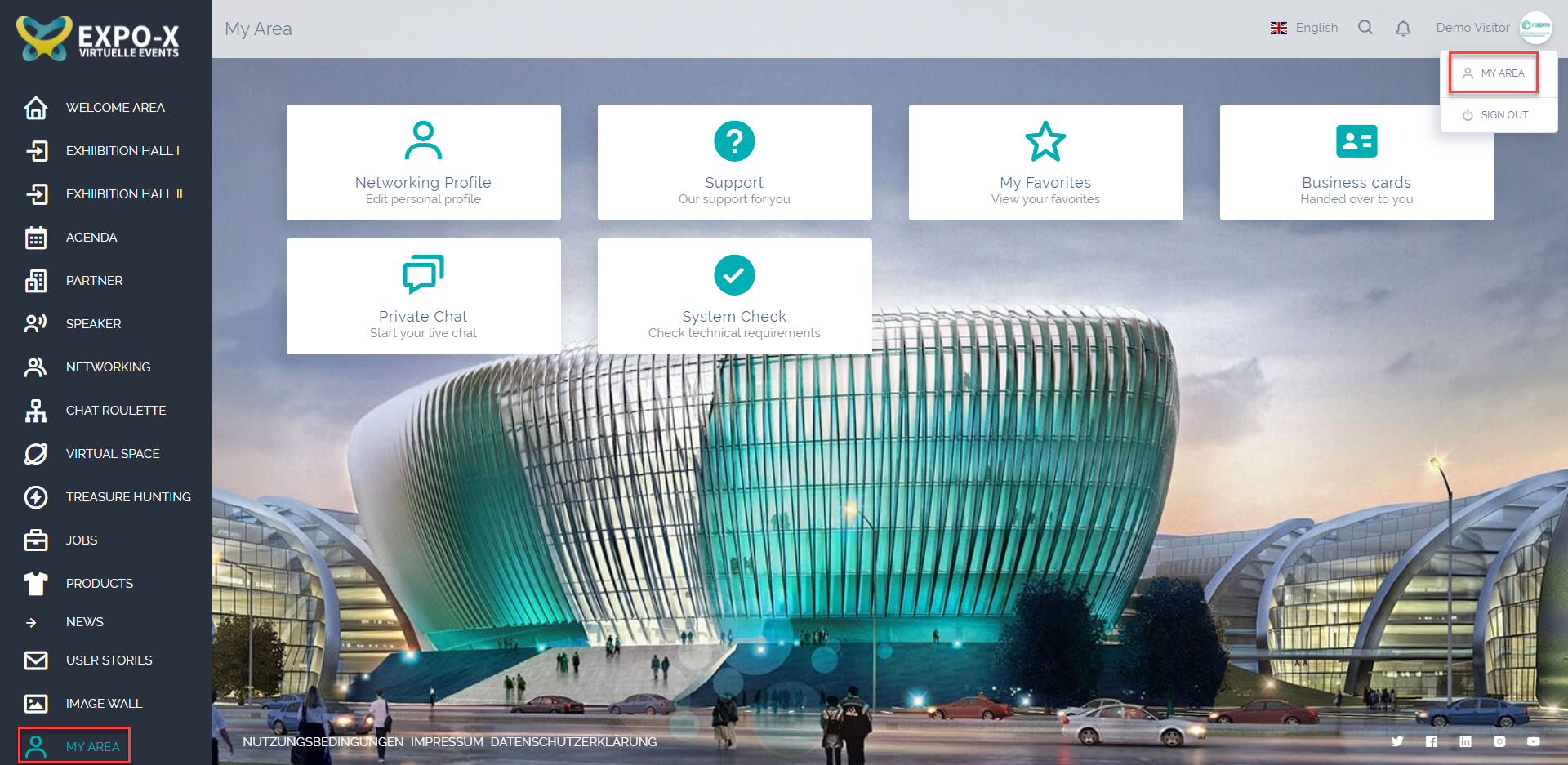 Networking Profile: Here you can administrate your personal data.
Support: Here you can find important information on how to use the virtual event platform. If available, you will also find a support chat here.
My Favorites: This is where all the content you have bookmarked with a star is saved (e.g. business cards, sessions, exhibitor profiles, jobs, speakers).
Business cards: Here you can find all the business cards you have received from other participants. You have various contact options there. Click on the [i] to read a message.
Calendar: The calendar gives you an overview of the appointments you have scheduled. Here you can accept or reject appointment requests and start a video call directly. Under Manage availabilities you can define times when other participants can make appointments with you.
Private Chat: Here you can find your chat history.
System Check: You can check the technical requirements with the system check. This shows possible sources of error in case you have problems with the platform.
If you have permission, you will see additional features in the dashboard (for exhibitors only):
Company Profile: You can easily edit your exhibitor profile. As a stand manager, you can add additional staff as stand personnel here. Simply enter the e-mail address that the person is registered with on the platform. The person will then receive an invitation by e-mail.
Products: Here you can administrate products that are assigned to your exhibitor profile.
Jobs: Here you can administrate job postings that are assigned to your exhibitor profile.
Company Chat: You have both a private chat and a company chat. In the private chat, you usually receive inquiries directly via your personal business card. In the exhibitor chat, you will receive inquiries that are made via the chat button in your company profile, if this button is enabled. The exhibitor chat is accessible to all of your company's stand personnel, while only you have access to the private chat.

Partner documents: Here you may download documents provided by the event host.
Polls: Here you can create and administrate polls.
Visitors: You can see the business cards of visitors to your company profile - of course, only if the person has shared their data for networking. This allows you to contact them easily.