rooomEvents is designed with a user-friendly interface. In this article you will learn more about the basics of the event platform.
After logging in, the full range of functions is available to you. First of all, you start on the home page or directly in the virtual lobby. There you get an overview of the event's most important contents.

The virtual event platform is structured in different navigation points, which are listed on the left side. The menu items can vary depending on the event.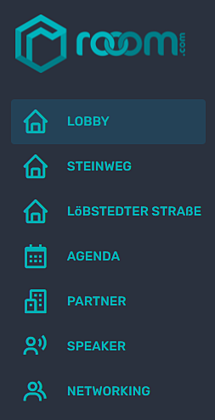 You can discover more pages via the menu. You will find overviews and detail pages (microsites) on partners, exhibitors, speakers, products, jobs, news and much more.
You can add content such as company and speaker profiles as well as sessions, job ads and business cards to your personal favorites by bookmarking it with the star.
The icons at the top left take you directly to specific functions (favorites, calendar, chat, received business cards).

You also have the option to customize the user interface language.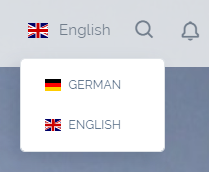 With the search function you can search for companies, speakers or other participants.
The notification function will show you incoming contact requests. This way you won't miss any requests, even if you are offline in the meantime.
In the notification settings, you can specify whether you also want to receive them by e-mail.