Chat messages are a quick and easy way to get in touch. In this article you will learn how to use chat for networking.
1. Open the virtual business card of the person you want to get in touch with (e.g. via the networking area).
2. Click the Start chat icon.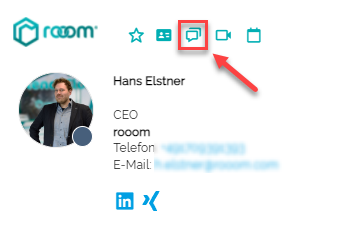 3. Now the chat area of the platform will open and you will find yourself in a direct chat with the selected person. Enter a message and send it by pressing Enter or clicking the arrow.

4. If you want to continue existing conversations, you can also open the chat area directly via My Area or the chat icon in the top menu of the platform.

5.Here you can see your active chat conversations. Use the magnifying glass to browse existing chats. Now select the corresponding conversation on the left side. You have the option to mark chat rooms as unread or as favorites.
You can check the online status of a chat partner by the colored dot in front of the name:
• Green = online and currently active in the chat
• Yellow = online
• Gray = offline
PS: If a company name is shown, all available contact persons will be informed about your request. If the name of a single person is displayed, you are in a 1-to-1 conversation. You can identify channels or group chats by a # symbol.