You can easily change the user interface of your event platform. In this article, you will learn how to customize the design.
Content
You can customize the overall appearance of your event regarding colors, fonts, themes and menu bars. You can either make adjustments with the Design Editor or directly via CSS.
1. Go to Setup -> Display -> Design in the backend sidebar menu.
2. Make adjustments using the Design Editor or custom CSS.
3. Save your settings.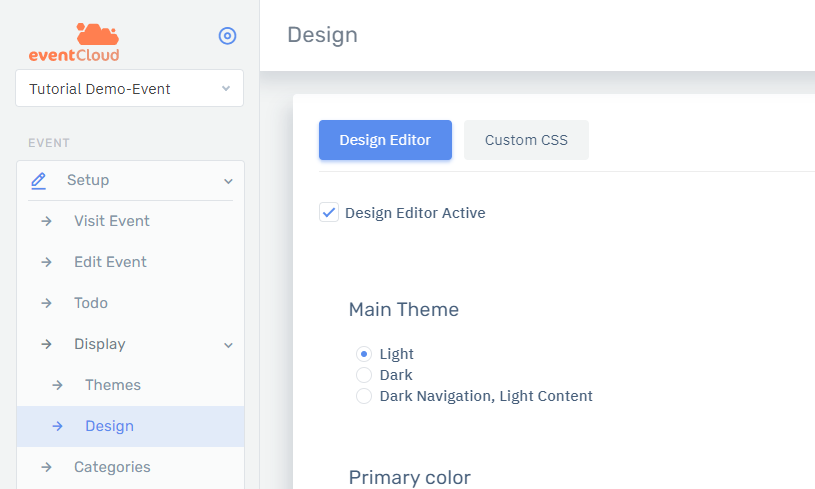 Design Editor
You can use the design editor without any programming knowledge. All you have to do is check the box Design Editor aktivieren.
Main theme: You can choose between a light or dark theme. It is also possible to set a dark navigation bar with light content.
Colors: You can define the primary and secondary color in RGB, HEX or HSL format.
Buttons: You can define background and text color as well as the borders of primary and secondary buttons.
Navigationbar top: You can choose if you would like to display icons on the top left navigation.

Main menu: Here you can change the appearance of the left sidebar.
You can see a preview of the design on the right side. The recycling bin icon will reset the settings to default.
Custom CSS
Each frontend page has a unique class stored in the body tag according to the scheme site-SITENAME.
Example: <body class="site-events-index">